[vc_row][vc_column][vc_column_text]
Christina mastered dance, nearly-blind
"Close your eyes", the teacher tells you. "Now try to really listen to his body language", you slowly drift off in the flow of the rhythm…"Ok, open your eyes again", the voice of the teacher fills the room and you slowly open them up. Pitch black. Only an edge of blurry colours around the blind spot in your vision.
This is Christina's story. A.k.a. Miss Blindspot.
Exactly one year ago, a friend sent me a text about a post she had seen in a festival Facebook event. She shared it with me and it caught my attention right away…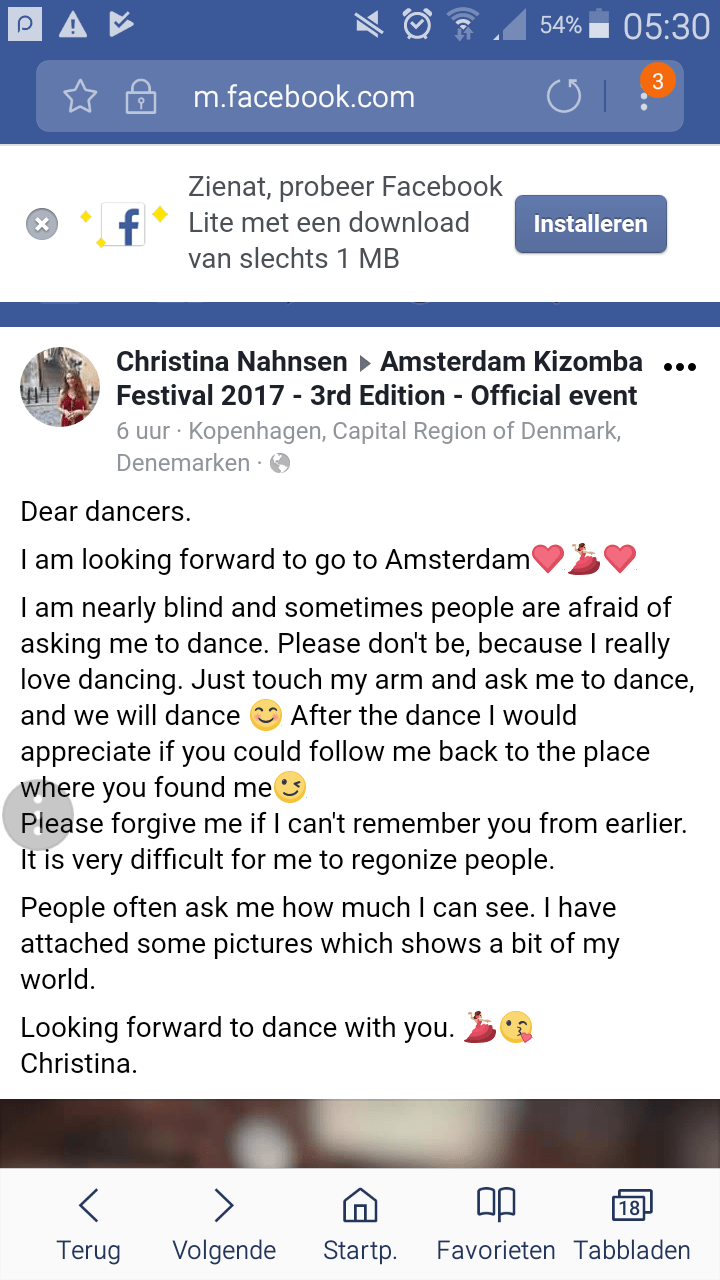 With it, she inserted a photo of what she is able to see, and it looks like this: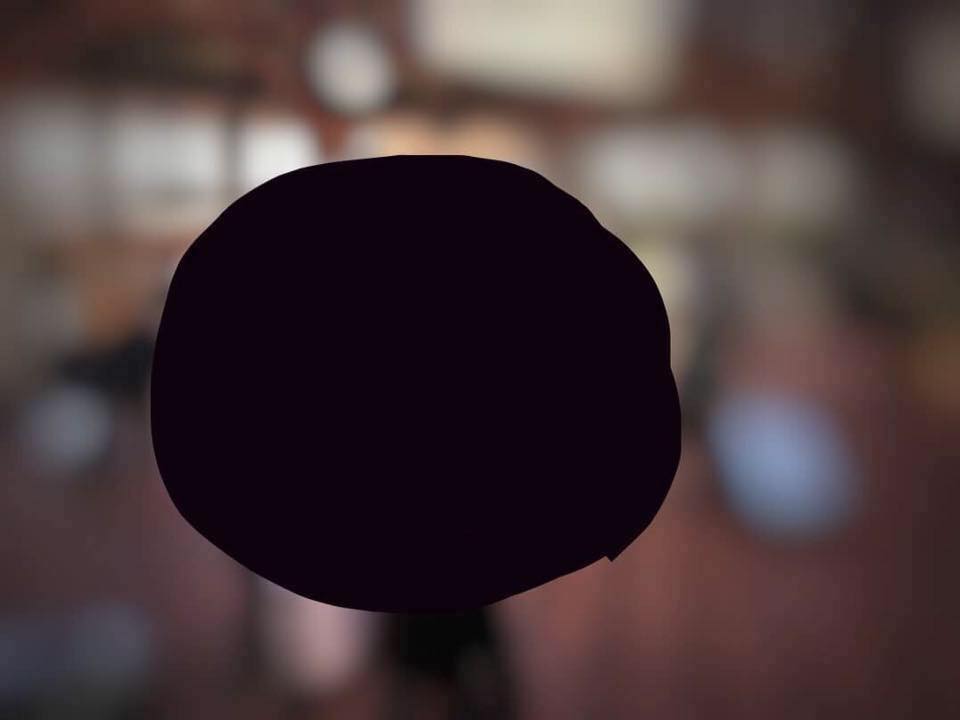 What Christina would see when she looks at the main station of Copenhagen
I had to know more. Even though we tend to close our eyes quite a lot in this dance we call kizomba, can you imagine not being able to see in the time between? When you make your way through the dance floor, when you reunite with festival friends, when you make that misstep…
So I sent her a message and she was just lovely. We ended up having a long talk about her journey in dance. She must be the most fascinating dancer I ever met. So let me tell you Christina's story: how she found freedom in being blind, through Afro-Latin dance
Chapters
Did you learn to dance blindly? 3
A life-changing discovery through dance 4
Finding my way through festivals 5
Finding my way through daily life 6
How I master the art of dance 6
What's it like to dance with Christina? A man's experience 6
Did you learn to dance blindly?
I'm not actually fully blind, I'm nearly blind. I started dancing 3.5 years ago.
We found out I couldn't see when I was 8 years old. It was much better when I was younger actually, although I never saw perfectly. We found out my son has the same problem with his eyes. He was six years old at that time. When you're just a child you start to discover things. At first, you don't have to read, you just play and look in books with big pictures. Yet when I started school, I realised I couldn't see the blackboard, I couldn't read books and I couldn't find the other children and play with a ball.
Fast forward to the future: One day a friend suggested me something interesting… She's also nearly blind and said to me: "You have to try to dance salsa!" I was hesitant about this, but someday I decided to join her.
We went to an outdoor summer party. I have to say, it immediately hooked me and so I started taking classes. It was hard to see the teacher, even though I was right in front of the class. Like all beginners, I didn't really like this, but it was worth it.
I started out with Cuban salsa. My teacher had dark skin and classes took place in a dark room, so I couldn't actually see him, but he was wearing white shoes and a white T-shirt. The rest was just black in my vision. When I was a salsa dancer I needed to see what I was doing. I kept practising at home. With my white skin in my light apartment, I would only be able to see my arms in the mirror when I put on my long black gloves. The big contrast made me see the styling and movement of my arms when I was practising in my apartment. Otherwise, my arms are just invisible to me.
I don't go to classes any longer, it's too difficult. I take private classes instead. I was very lonely at the beginning because I couldn't see who was in my class and people where shy. "Oh a blind girl, what should I do?" They didn't ask how I was doing or anything else for that matter. Going out to parties was lonely as well. I went to dance class three times a week because I really wanted to learn it. When I went out to party three to four times a week, there were maybe five guys who wanted to dance with me. It was awful in the beginning but I liked the feeling of dancing.
Most of the time, I was so lonely. I was just staying there, waiting for a dance to come. All this time, I kept thinking: "I love to dance and I will be here. They have to accept me. I won't give up. Dancing is so good for me."
It took some time, but eventually, they began to accept me and started inviting me. Often they would tell me "I've watched you for 5 or 6 months but I didn't know if I could ask you, if I could do it. Or they would say "I saw you last summer", "I saw you in class a few months ago". All this time, I had been waiting.

A life-changing discovery through dance
1.5 years ago I started dancing kizomba and took some private classes in zouk. "When you do a body roll, you have to look straight in front of you", my teacher told me. I could only think "I'm doing it!!" And she said, "no you look to the side when you finish the body roll".
Until I discovered this: the blind spot in my vision makes me turn my head.
It actually makes me do a lot of things wrong. I can't do the spotting while turning in dance. In the world of dance, I learned something about myself and my eyes.
After that, I actually began to relax more. Even when I'm walking in the street, I feel calmer in my eyes and in my head. I don't have headaches any longer. Whereas before, I had them every day. Before, I tried to put the blind spot on the side. When I relax in my eyes, the spot is right in front of me and then I can't see much. When I turn it to side, I can see a bit more. It feels like my vision has worsened, but it's actually more comfortable.
It's wonderful that I learned this by dancing. I finally feel at ease in my body.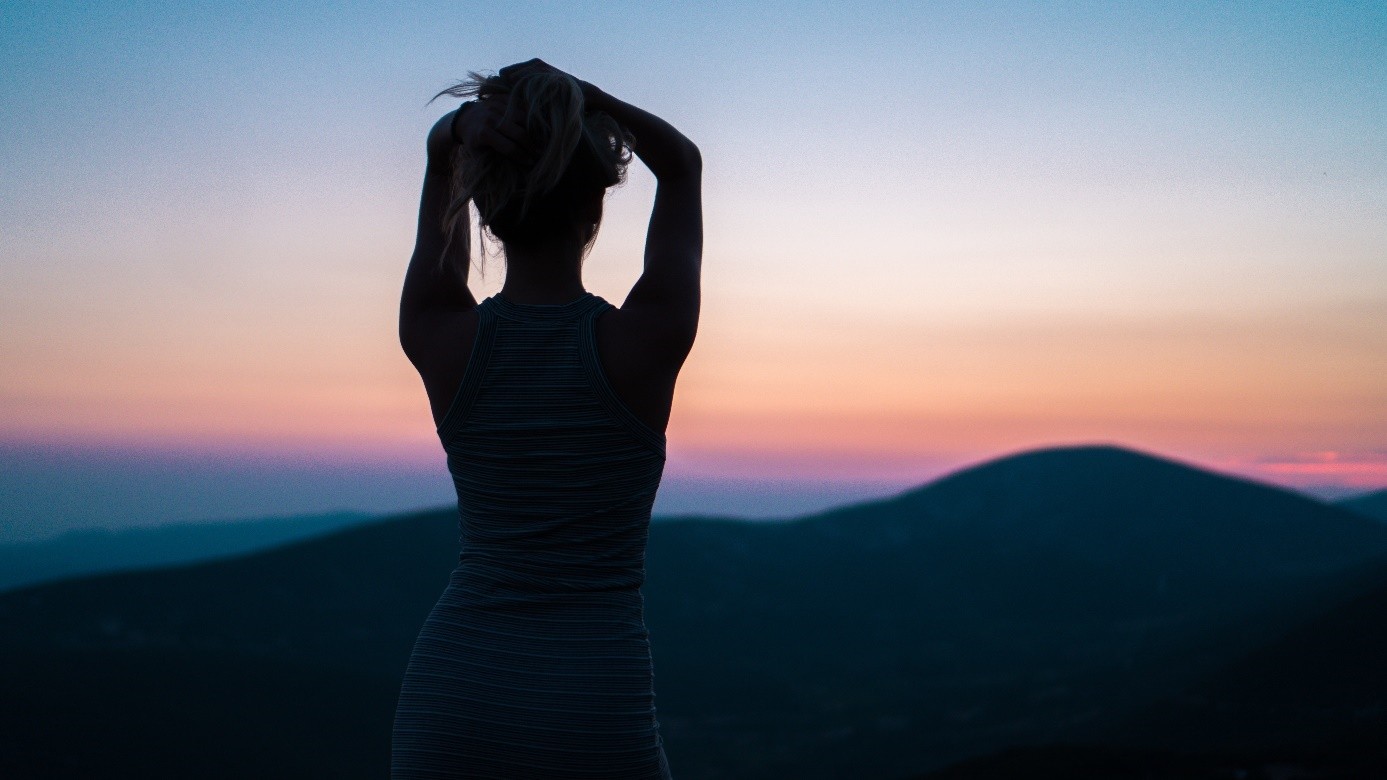 Liberation
In the last year, my eyes have been becoming worse. The blind spot is growing all the time. Now there's not just one, there's a little bit more around. But when I was dancing salsa I had my eyes open. With kizomba, I close my eyes, even in urban. It's so relaxing for me.
It's the only place in the world, in my life, where I feel free and relaxed.
I don't dance salsa anymore. It's too stressful. I can feel how I constantly try to find the hands with my eyes. I keep trying to see. Kizomba is just wonderful for me.
Finding the silver lining
I began to feel good things. I think that when I'm dancing, I listen more to the guy and his body. And I can see now when a teacher is a good teacher. If he or she comes up to me to ask what they can do to help me, I know I'm in the right class. Plenty of teachers just run their class without notice.
When I go out to classes, I'm not doing
Back in the time when I went to classes, a good teacher was a good teacher was a teacher who sees the people in the class. They notice there's a girl who is nearly-blind, or someone with another level than my class is so I can adjust the level of my class. If they came over to me and ask me "is there something I can do for you?" I can see that this is a teacher who sees people who are in their class. I can see if a teacher is aware of what is happening in his class.
Somehow, when I dance with a guy, I totally trust him. I close my eyes and give all my body and dance to him and just let him lead me. I think that sometimes, guys search to me after my dance and say wow you're such a good follower. You're not looking down on the feet and if your feet are doing something else than my feet. If I didn't follow him I didn't stress about this because I didn't notice. You're not looking down at our feet so you're not busy with the misstep but you continue dancing. Such a sweet way to say it. He also said it was so good to dance with me because I am not looking around "oh I want to dance with that guy! Oh, this guy is stopping to dance with this girl and I want to catch him! "You were with me all the time. You were not looking at your feet, someone else, check out who you were dancing after all. You were just dancing here with me, here in this moment. I'm completely devoted to the dance and the moment. The guys are totally focussed on me as well. Sometimes, not often, I can feel when they're not 'here'. I can feel they are not there. And they cannot take care of me cause they can bump me into someone else and are not focused on our dance right now.
In general, people are afraid to come to me and say hi. It says a lot about a person when they DO approach me to dance. I think more good-hearted, genuine people approach me and I think I get more dances.
Finding my way through festivals
I've been going to festivals for more than a year now. The first festival I went alone. I knew some people who were going, but they already booked their hotel etc. I could not wait for another festival to go together. I wanted to go now.
I wrote a post in the Facebook event because people tend to be so afraid and no one would ask me for a dance, like it was in the beginning in Copenhagen. If I'm not telling people about it "I'm blind but I still love to dance", people walk in a big circle around me. A lot of people write me a PM after the post: "Thank you for telling me about it. It makes so much more sense now and I now know how to invite you for a dance." In the beginning, I found it terrible, to be honest… Going around saying 'look at me, I'm the blind girl, I'm the blind girl.' But the reactions were a confirmation of why I should keep posting anyway.
The music is loud at festivals so it's hard to recognise people by their voices. That's why I keep my eye on my friend's clothing actually! I look for something specific to recognise, for contrasts. I might see in the morning they are wearing black and white stripes or a red dress off the shoulder. When I spot this at the festival I realise "Oh it's Emily!".

Finding my way through daily life
My sight is blurry. I can see colours, but everything is blurry. It's hard to recognise people. My friends can be standing right beside of me and say hi, and it will still be hard to say "oh hey it's you!"
The most heart-breaking thing about this is the fact I cannot see my child, I cannot get eye-contact, I cannot recognise people, how you socialize with people. It's ok that I cannot see the sunset, or flowers, or cannot drive a bike… It's not OK that I cannot see my child smiling. I cannot make eye contact, I cannot recognise people easily or read their body language.
This makes socializing really tough. It's confusing to be in a group. I'm constantly checking if people are talking to me. That's why I prefer one on one talking.
But then again, when I dance it's all wonderful.
I'm divorced so every month I can travel abroad to dance. Copenhagen doesn't have that many parties so I prefer going to festivals. If I don't go every month I can feel it, I get sad. It's really my space to feel free. There are so many problems surrounding me because of my eyes. Now and then I have to breath. I have to dance.
Since I started dancing I got a lot of questions. Of course I want to answer, but in the beginning, it was difficult. "how do I go shopping? I don't know, I just do it! How do you find your way from one place to another? I just do it. I had to analyse everything, how do I actually do it? That's why I made my page on Facebook: Blindspot my world. Even when I go shopping people stop me to ask how I do it. I need something to direct people to. So they can go to my page and read everything.
The most important thing is that I neeed people to come to me and say "Hey I am [name]"because it's just difficult to recognize people. If I can't remember the voice it's really a challenge. Give me time and I will recognize you one day. I want to talk to people but the people really have to approach me. The social part of being visually impaired is the very worst.
I really just need people to come to me.
How I master the art of dance
When I do private classes, I touch teacher's hip and shoes to feel what she is doing. I will be on the floor to watch and touch her feet. She'll tell me how to point and touch my feet. Even though it's hard to take classes I still try my best to go into the details. I always try to make my appointments at my own home because it's so difficult to go around all the time. And said, "yeah of course!". So I love that! We train together in front of my big mirror and floor at home.
When I go to a festival, I still always post in the Facebook event that I'll be there. One of the reasons being that the guys ask my friends if they can dance with me. I want them to ask me. I can speak you know ?.
What's it like to dance with Christina? A man's experience
That made me curious about the experience of the guys that danced with her… I asked Peace Diallo to tell me what it's like to dance with this admirable woman.
"Dancing with Christiana is truly a great experience. To be honest, the first time I invited her for a dance, it was because I thought that guys wouldn't invite her much. This is far from the truth. In fact, I actually have to wait a while before I can dance with her. I really enjoy it. You find out she is a great follower. It's almost like she listens to you with her entire body, with a high level of mastery, very technical moves and all the subtle moves you could suggest. It's awesome. I don't think there was any discrepancy between my expectations and the reality. I actually expected her to be very good. Christina has risen to the level of every other good dancer in the kizomba scene. I even think that she dances way more and better than the average follower at festivals.
I think one thing noteworthy is that lots of women complain a lot about being on the losing end of a harsh selection process by guys. And for some reason, Christina appears to deviate from that fact.
Christina is not about showing herself off in extravagant outfits, instead, guys invite her because of the way she dances, follows and the good vibes she shares with it. So with all that taken into consideration, how come she dances so much? If we're able to emulate that on a wider scale maybe the ambience at festivals could be something else…"
A final word
I have to admit, when I saw her on a festival for the first time, I was too shy to approach her as well. We get caught up, worrying about the 'how'. That's one of the reasons why I wanted her story to be told. She truly is one of the sweetest, patient and loving people I got to know through kizomba. She reminds us to not take our 5 senses for granted. So I hope after reading this, you come up to her one day and ask her for an unforgettable dance. I promise you, no one really dances like her…
Yours faithfully,
Vera Wilders[/vc_column_text][/vc_column][/vc_row][vc_row][vc_column][vc_column_text]
[/vc_column_text][/vc_column][/vc_row][vc_row][vc_column][vc_column_text]
---
Vera Wilders
Guest Blogger
---
[/vc_column_text][vc_empty_space][/vc_column][/vc_row][vc_row][vc_column width="1/2″][vc_single_image image="5434″ img_size="full"][/vc_column][vc_column width="1/2″][vc_column_text]
From a young age, the love for creativity and expression has flown through my blood. I am currently studying Nutrition and Health at Wageningen University, but try to fill all my spare time with a variety of creative forms. While I used to draw a lot in the past and had my own blog for 2 years, I now find my outlet mostly in dance, photography and freelance blogging.
You can find me dancing at Salsa-Bachata-Kizomba events, as a GWEPA photographer or storytelling in our blog section. I hope to meet you there! – Vera
[/vc_column_text][/vc_column][/vc_row]