[vc_row][vc_column][vc_column_text]Hi, my name is Becca and I have a confession to make: Bachata has taken over my life. As in, I've moved full-time to the motherland of Bachata: the Dominican Republic. To the outsider this might sound crazy, but to me it makes perfect sense. Let me explain . . .
Before the move, I was just your average Toronto Bachata fanatic, taking multiple classes with different schools, showing up to work exhausted 'cause I'd been attending socials every night, throwing all my money at performance opportunities, and realizing all of my friends and all of our parties are based around Bachata.  But within one year of my first ever Bachata lesson, I found myself living in Las Terrenas, the epicenter of dance of the Dominican Republic.
I've been a dancer my whole life. I grew up dancing ballet, jazz and hip-hop which I took to a competitive level in high school. I thought about making a career out of dance after graduating, but struggled with finding a place for myself within the Toronto dance scene. Instead, I went to university for actuarial science and spent over ten years working in the corporate world. I dabbled in salsa in university but I didn't feel ready to take it to the next level.
It wasn't until spring 2018 that I got back into salsa and was introduced to my new love … Bachata. An amazing summer salsa trip to Cuba opened my eyes to the magic of combining my two passions: travel and dance. When my next opportunity to travel arose, the Dominican Republic was the obvious choice to feed my newfound obsession with Bachata.
After asking around and running a few Google searches, my research led me straight to Las Terrenas. I didn't realize at first how perfect that decision would be. Las Terrenas is a small beach community on the northeastern coast of the island, the unofficial dance capital of the Dominican Republic. The incredibly high calibre of talent in the dance community, many excellent dance schools, and a highly active nightlife attract international attention, making Las Terrenas the host of various dance festivals throughout the year.
I came to Las Terrenas for the Bachata, but in less than two weeks, I decided to stay, primarily for the community. I immediately felt at home in the family-run hostel in which I now volunteer and I quickly found a job as a bachata instructor with one of the local schools, Alianza Dance School R.D.. Those two jobs combined, were enough to live off which sealed the deal. I was staying in Las Terrenas for good.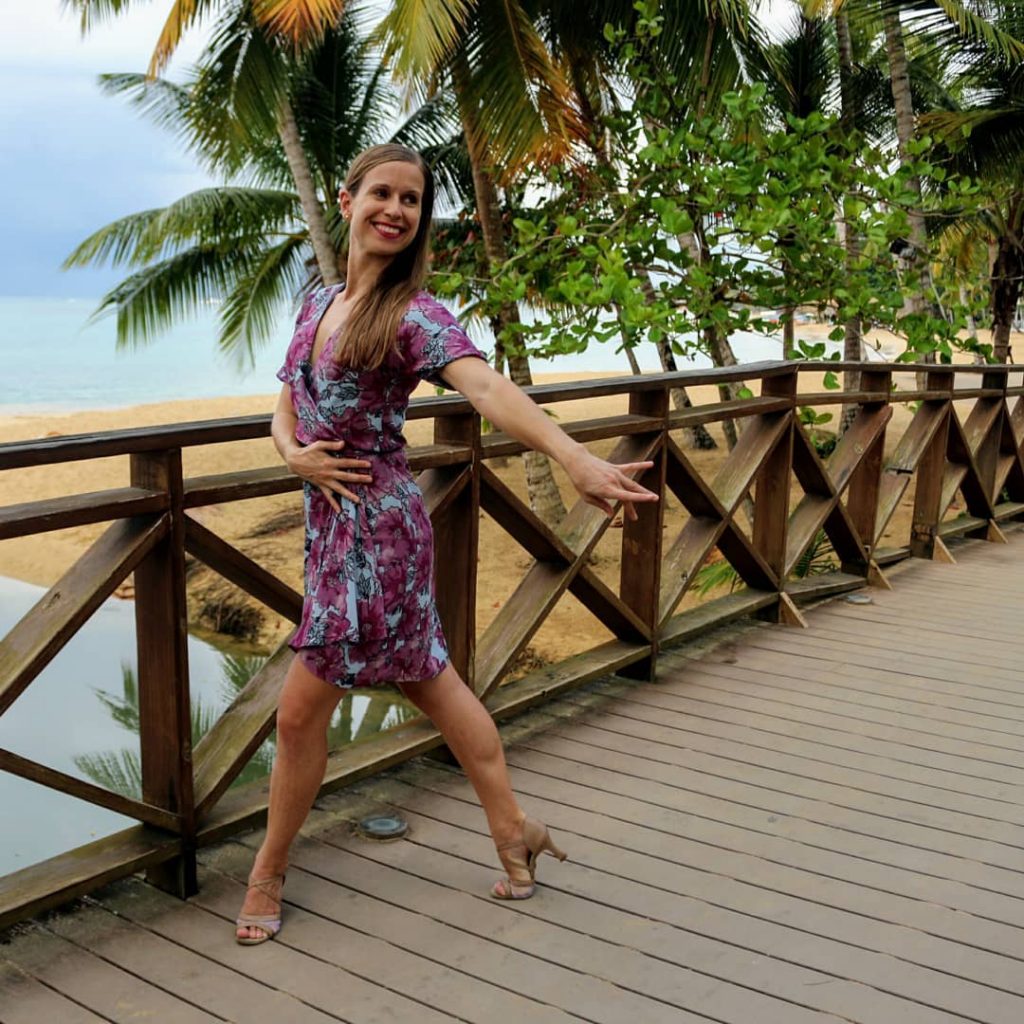 Being a part of the dance scene here in Las Terrenas has instantly connected me with the global community of traditional Bachata. I network with many traditional bachata teachers, performers, DJs and fellow fanatics who pass through town on an annual basis. I even got the opportunity to perform for the international community, alongside some truly talented professionals, at the annual Bachata Paradise festival this past spring.
Video source: @bachata paradise
This town has a magnetic pull that tends to suck visitors in to stay long-term, and I am a prime example of that. With high quality Salsa, Merengue, Bachata, Dembow and Reggaeton on offer, Las Terrenas is making its mark on the Latin dance world. If you love Latin dance as much as I do, I dare you to come for a visit![/vc_column_text][/vc_column][/vc_row][vc_row][vc_column][vc_column_text]
[/vc_column_text][/vc_column][/vc_row][vc_row][vc_column][vc_column_text]
---
BECCA NEAL
Guest Blogger
---
[/vc_column_text][/vc_column][/vc_row][vc_row][vc_column width="1/2″][vc_single_image image="7621″ img_size="full"][/vc_column][vc_column width="1/2″][vc_column_text]Becca Neal is a Canadian girl dancing through life in the Dominican Republic. She dances all styles of bachata and salsa, but traditional bachata has her heart. When not busy sharing her love for bachata with others, you can find her practicing – a dancer's journey never ends!
Blog:
www.nomadicbecs.com
Instagram Page
@nomadicbecs[/vc_column_text][/vc_column][/vc_row][vc_row][vc_column][vc_column_text]
[/vc_column_text][/vc_column][/vc_row][vc_row][vc_column][vc_column_text]
[/vc_column_text][/vc_column][/vc_row]