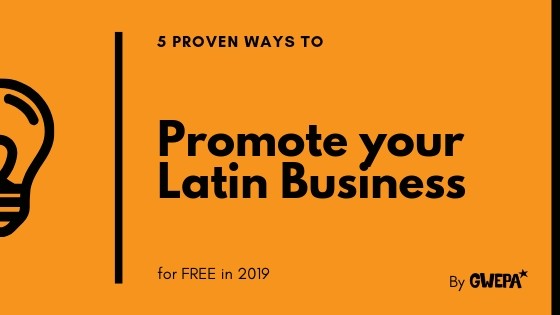 When you don't have a big budget to market your business, creativity can be just fine. This 5 minute read will definitely help you.
Promoting your Latin dance class or latin restaurants can be costly. However, there are ways to reach the Latin lovers for free. The internet has been a life saver for many successful businesses. The internet allows you to reach clients locally and internationally without paying a dime. Many social media accounts allow you to take advantage of free marketing. This could help your possible clients discover your business with the possibility to become your clients. Let us show you five ways to promote your business without spending any dollar extra.
How to promote your business
Let's get social
In 2019 Social media such as Instagram, Youtube, and Facebook makes it easier to promote a business. These platforms have a large fan base and you can sign up for free. It can work to your advantage if you don't neglect the account after you create it. It should be updated regularly so new clients will see that the business is still active. This is the role of a social media manager. If you are a small business it can be a little tricky to keep up. But now there are a lot of resources online where you could obtain this information for Free.  Example: Instagram allows you to use hashtags and attract right users to your business profile. Sounds pretty simple but if you don't know which hashtags it will still be a difficult task.
Want to win a chance to be introduced to our 400K+ followers for FREE, just click here
Start blogging – Put your emotion and experience into words
Creating a blog about your business and expertise will boost your online presence. You can reach clients and give them information about your business. The secret to this is to write short and simple blogs. But the most important part is to be consistent. Treat it like a social media platform as well by keeping it active. There are many web hosting services that allow you to create a blog for free. These include Wix, WordPress, Yola, and Squarespace.
SEO
Search engine optimization or better knows as SEO helps you to be more visible on the internet when someone is searching for contents related to your business. You don't want to just create a website but you want to reach a large audience that is interested in your services. Most of the software that offer these SEO services have free trials. If you are not an expert you can learn. There is a lot of information for starter who wish to be competent.
Email
You can gather emails from clients who sign up for newsletters on your blog and use them to promote your business. You can send customers emails on attractive offers that they may be interested in.  
The secret "salsa" Constantly engage with your current customers.
Question: Who are the best customers?
Answer: Repeat customers!!
You should have an email list of all your customers, and make it a point to touch base with all of them often. Rather than send direct-sales offers, send interesting information related to your industry.
A Dance school owner, for example, should segment a customer list into groups based on the types of dance classes they've participated in the past. In this context, the dance school owner might send everyone on the "Salsa class" list an email when a milestone is reached for the company or some significant news breaks, like some big artist is in town or the salsa music album of the year is released.
This kind of marketing keeps your brand fresh in the minds of your customers. That way, the next time they're in the market for what you offer, you'll be the first company they think of.
Referrals
It may feel like a century ago but there was an age where there was no internet. Before the internet and telephones were invented oral referral was used to promote a business. Today this is still effective. Never underestimate oral referral. It can help your business in a small way but this will add up. Tell everyone in your network about your business. It will reach others outside your network little by little and you can gain clients. It is the old fashion way of advertising. PS: this is the marketing tool with the highest conversion.
Wrapping up
Promoting a business has become easier since the internet became dominant and accommodate billions of users. You can use Instagram, emails, SEO without spending money. Don't forget the oral referral that will reach people outside of your network.