So, you have been taking dancing lessons it has been a while now. You have been watching some videos to develop your own performing style, and here comes the time where you will go to a night bar to show your dancing skills among with other people. In other words you are going to a fiesta Latina (and maybe for your first time).
The primary question my students have –especially if you are a girl– is "but what should I wear?". I also had this experience when I went for my first party. Let me tell you in that bachata and salsa parties differ from a normal night out in the aspect of the dressing code.
Ladies
First safe choice I would recommend for any girl out there would be a bodycon dress. The only trick here is not to go too short. Instead pick a midi length or a just above the knee dress. Since bachata is all about the hips, wearing something tight will show your movements even more. Make sure not to go to the extremes and pick something too tight because this is something we don't want. Dare to put on color, like red and avoid black here.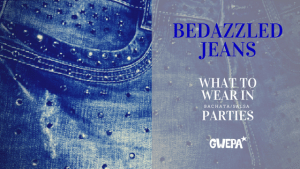 If you are not into dresses another comfy solution will be jeans. No matter the color of the denim you can always combine it with any kind of top. Avoid tops with heavy sleeves cause you will have difficulties on turning and on certain figures especially in salsa. Of course you don't want to wear warm fabrics because you will be hot in the first minute of your dance. For a more glamorous effect, put on bedazzled jeans. You can go as crazy as you want, no problem here.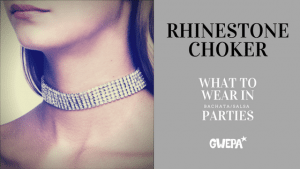 Considering the "extras", I would recommend avoiding long pieces of jewelry,lots of bracelets and rings. Have in mind that your dancing partner is not fully aware of what you have on you, and there might be problems such as getting your necklace tangled with his shirt. A good alternative if you want to spice things up with jewelry is to put on tight pieces like a rhinestone choker.
Hair does not require any specific styling. Avoiding complicated hairstyles that can cause you and your partner difficulties in certain figures. You may end up with another hair style you might not like that much. Loose hair gives the true Latina flavour but if you tend to sweat, a slick low ponytail would be perfect.
And don't forget your heels. Dancing shoes are favourable. For those who do not have dancing shoes I would suggest to put on a 5″ inch heel. Avoid super high heels because you will struggle a lot.
[/vc_column_text][vc_empty_space][vc_single_image image="4368″ img_size="full" alignment="center" onclick="custom_link" img_link_target="_blank" css_animation="bottom-to-top" link="https://bit.ly/freebracelets2″][vc_empty_space][vc_column_text]
Gentlemen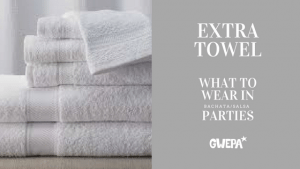 For our guys, things are not that complicated. Most of guys wear jeans or pants that are not to tight, otherwise they will not be able to move around or do impressive figures. For top, I would suggest cotton blended t-shirts, in dark colors for the sweat not to show. Always have a back up t-shirt and a towel with you. As far as footwear, try to avoid rubber-soled shoes, as they tend to slow down your spins. If you don't have dancing shoes try to pick the ones that will give you more liberty in spinning and moving around.
There are no strict laws you should follow at bachata and salsa parties. Think of it more like a carnival. You can really exaggerate sometimes by mixing and matching different patterns or by being too fancy. Or, you can be simple and classy. There is absolutely no problem. After all it is just a party. The only thing is that you should be comfortable in order to enjoy your night as much as possible. So put on your favourite clothes; don't forget your smile and feel the #Gwepaaa!
[/vc_column_text][/vc_column][/vc_row][vc_row][vc_column][/vc_column][/vc_row][vc_row][vc_column][vc_column_text]
---
Julia Ripo
Guest Blogger
---
[/vc_column_text][vc_empty_space][/vc_column][/vc_row][vc_row][vc_column width="1/2″][vc_single_image image="4359″ img_size="full"][/vc_column][vc_column width="1/2″][vc_column_text]
Professional dance teacher and freelance 
blogger
.
I've been teaching all levels and all ages, and I do believe that everyone can dance.
Fashion is a special way of expression for me. In a past life I was for sure a Latina.
When I don't dance I go shopping, and when I'm not shopping I dance.
Check my
website
for more blog on Fashion & Style.
[/vc_column_text][/vc_column][/vc_row]